Hello, Ladies! Today is about releasing that talented inner Social Media Freak that's been hiding for years now. We are the generation of the Internet, so we might as well take advantage! I need a marketing/journalism degree for that you might tell me. but I'm here to prove that you can succeed in managing Social Media Accounts in exchange of cash, using only your fingers, and your brains! See the true key to succeed at managing Social Media accounts, is what I like to call the F&B (Fingers and Brains)
and I am POSITIVE that when you apply them, your clients will be as mind blown as mine 🙂
DON'T FOLLOW-UNFOLLOW!
There are millions of reasons going through my head now on how the Follow-Unfollow technique will RUIN the brand's reputation. I once worked for a firm that applied this technique and believe me, the amount of swears and insults the clients received every day from angry unfollowed fans was unbearable. I mean, think of it as yourself, would you like it if you were followed by a huge brand on Instagram or Twitter then unfollowed the next day?! You would hate that right?! Well, guess what? SO DOES EVERYONE ELSE! Applying this technique is a way to kill the brand slowly in the longer term, So if I were you, I wouldn't promise high numbers and instead would promise an engaging community and mutual trust between the brand and the potential customers.
PARTICIPATE IN CONTENT CREATION!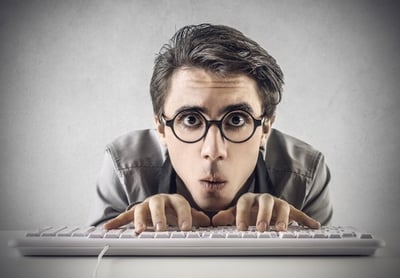 A A successful community manager does not sit back and wait for content to share. You should work side by side with the client's GRAPHIC DESIGNER because, at the end of the day, a Graphic Designer doesn't know the first thing about Social Media content! Explain the way you need the visual to be designed and work together on creating content that respects the 20% rule (Text should not exceed 20% of the picture otherwise you won't be able to boost it). And don't settle for any content just for the sake of posting; part of being a social media community manager is that you should share your ideas with the client and graphic designer: don't be afraid to hurt their feeling because you won't; your intention is to grow the brand and not ruin it with underqualified content!
BE CREATIVE!
People are not dumb, They can read that you're using the same caption or someone else's over and over again and as you keep copying and pasting captions, followers will eventually get so bored of you and chances are they might start by ignoring the brand then unfollowing it after a while. Research for ideas and take inspirations from other brands while respecting copyrights because well, you know, PEOPLE WORKED HARD FOR THEM!
BUILD A RELATIONSHIP WITH THE COMMUNITY!
The Social Media community does not consist in ghosts! Follow the right audience, like their pictures and leave a thoughtful comment once in a while it'll make them happy and at the same time. they'd feel much closer to that brand and become loyal fans; at the end of the day, that's your aim right? Answer questions promptly, reply to every single message and check Facebook/Zipkick/Zomato.. reviews. The community should trust you and await your content. When you stop replying to them and when you intentionally ignore their concerns, they will not only Unfollow you, but chances are they're spreading the word to their friends and you'll lose fans/customers that you never even had!
HONESTY IS THE BEST POLICY!
None of us was born with a stack of knowledge. so if you're not sure how to respond to a customer or a bad review, don't hesitate to communicate with your clients and figure out together an answer that will fulfil the commenter/reviewer's needs as soon as possible. If you feel that the information requested should not be shared with the rest of the world, message the concerned customer PRIVATELY and thank them for taking interest in the brand! And remember "DON'T SWEEP PROBLEMS AND BAD REVIEWS UNDER A RUG": ignoring the problem here will not make it go away but it could worsen it so deal with it as soon as you can!
ANSWER BAD COMMENTS/REVIEWS POLITELY!
One little bad review will not ruin the brand's reputation, but a bad response to it might do! So before you answer with your heart no matter how unfair the review/comment might be (here it comes) USE YOUR F&B!! Communicate the problem first with your client, and RESEARCH the best answers before you come up with your own! Remember that the customer is ALWAYS right and answer politely while requesting the customer's contact information in order to better understand his/her concerns. 80% of the times you respond kindly and politely, the reviewers change their rating or edit and add how helpful you were in understanding their complaints.
STAY UP TO DATE!
Keep following Social Media because it will NOT wait until you catch up. Every day, there are a hundred articles that pop up featuring new and improved techniques in order to get more followers and engagement so DO NOT IGNORE THEM! Instead, take inspiration from them and try to apply them to your client's Social Media channels.
So, Ladies, I presented you my favourite tips oh how to become a successful Social Media Community Manager. Will you implement them?! Here's a recap:
Don't forget to understand and build a relationship with your audience, participate in the content creation process, be creative, honest and polite while staying up to date with the latest techniques.
Still Reading? Thank you, you're the best! If you like what you read, please spread the word among your friends and Social Media Channels 🙂
Until Next Time! 😉